Description
Refriger side by side SAMSUNG RS51K5680 511 Litres
Twin Cooling ™
Water fountain
Automatic ice maker
Digital inverter
Premium design for modern kitchen
The RS51K5680SL, it's what you don't see that helps bring refined beauty to your home. The recessed handles and hidden hinges add a touch of minimalism elegance that complements any modern décor. From the sophisticated design to the blue LED screen, there is still much to admire.
Twin Cooling System ™ offers you the best of both worlds
The RS51K5680SL uses two separate airflows and precise temperature control to maintain optimal moisture levels on the refrigerator and freezer sides. This Twin Cooling System helps ™ keep your apples fresh, prevents your ice cream from burning in the freezer and prevents ice cubes from smelling the garlic bread you've stored in the refrigerator.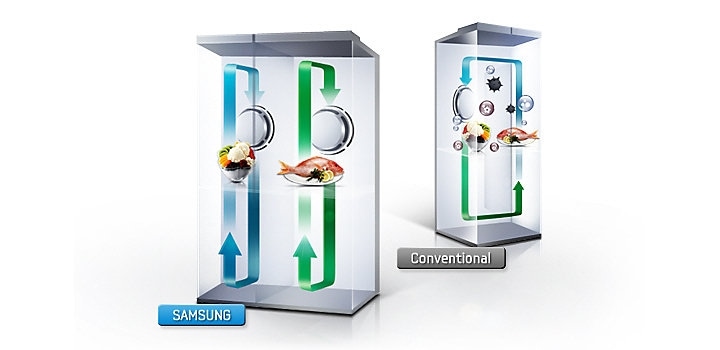 Preserves your food longer, reduces your electricity bills
The innovative digital inverter compressor saves energy. Nine sensors track variables such as internal and external temperature and humidity levels, as well as your usage patterns. This allows the Digital Inverter Compressor to optimize the parameters for constant cooling without having to stop and restart continuously. As a result, it uses less energy than conventional compressors.
Multi Flow fonctionne à tous les niveaux (avec de petites bouches d'aération sur chaque étagère) pour maintenir une température uniforme dans tout le réfrigérateur, en particulier après l'ouverture de la porte. En refroidissant chaque section de chaque compartiment en même temps, vos aliments conservent leur fraîcheur plus longtemps.
Vous n'avez plus besoin de vider le réfrigérateur ou le congélateur lors d'un dégivrage de routine car il n'y a plus de dégivrage de routine. La fonction No Frost de Samsung assure un refroidissement uniforme afin d'éliminer le givre et les accumulations de glace. Maintenant, vous pouvez garder tous vos aliments périssables frais et nutritifs et avoir plus de temps pour d'autres tâches ménagères ou des activités amusantes. De plus, en maintenant une température uniforme, No Frost sollicite moins d'énergie, ce qui augmente la durabilité du système de refroidissement.
PRINCIPALES CARACTÉRISTIQUES
Nombre de portes : 2
Classe énergétique : A+
Volume net réfrigérateur: 334 Litres
Volume net congélateur : 177 Litres
Dégivrage automatique / Alarme porte ouverte
Contrôle électronique / Compresseur à onduleur numérique
Water and ice dispenser (with filter) / Twin Cooling / Multi Flow
Refrigerator: R600a
Weight: 117 Kg
Dimensions (L x H x P): 91.2 x 178.9 x 70 cm
VENDU AVEC LE PRODUIT
(1) REFRIGERATEUR
TECHNICAL DESCRIPTION
SKU:

SA024HL07ZT54NAFAMZ

Capacity (L):

511

Color:

Silver

Model:

RS51K5680SL/UT

Size (Length x Width x Height cm):

91.2 x 178.9 x 70

Weight (kg):

0.5